The demand for excellent service in the food industry is so great that food packaging has become as essential as the food itself both in its presentation and handling. It is difficult to imagine a food establishment who maintains a decent market image without investing on superior packaging for serving their food products both inside their premises and for their "food-to-go" items.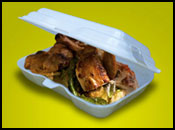 FOMPAC Plastics Corporation recognized this need as early as 1988 when the company was established. Its goal at the start was to develop an advanced plastic manufacturing and trading organization. Soon it set its eyes on food packaging as well as the market demand for quality and durability in food handling, serving, and storage gained popularity in the early 1990s.
Today, FOMPAC has established itself as the Philippines' premier manufacturer of superior and aesthetically designed food packaging products which range from PS foam to microwaveable to clear plastic materials.
To find out more about the company, its products and services, please
click here
.