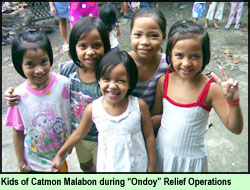 Through its years of existence, Amtes Corporation had gone through the rollercoaster ride of unpredictable market trends of the industries it serves. It have experienced some market downtrends along the way but God have blessed Amtes more than these temporary setbacks and enabled the company to expand its operations farther than when it was first conceived.
As God continuously supply Amtes with abundant blessings, the owner of the company was struck with an inspiration to bless back God through community service and social concern programs like medical missions, relief operations to disaster-hit areas, feeding programs for street children and other events that uplift the plight of the less fortunate. This inspiration also spawned a vision to create spiritual awareness and values formation among its employees. Bible studies and values formation classes are conducted across offices of Amtes affiliate companies and are facilitated by invited Pastors from Christian churches. Third Fridays of each month are designated as fellowship day at the manufacturing plant of one of its affiliate companies FOMPAC Plastics Corporation with a full Christian Service starting from the late afternoon until early evening.
Amtescares was formed as a group within the ranks of Amtes employees to oversee all these programs and create or organize more. Involvement in the group activities enables an employee to exercise his God given talent to be used by God Himself. Its purpose is to bring Godís message of love and salvation to the community through its programs.
Please watch out for the launching of Amtescaresí website to learn more of its programs and activities.